During Fairtrade Fortnight in the UK I posted a different fair trade yarn on Facebook and Twitter every day. It was great doing the research into fair trade yarns and getting recommendations from other people. The research also highlighted some questions for me. This blog gives the answers to some of these and provides a summary of the 14 fair trade yarns that I discovered.
What is Fair Trade?
At first glance, this might sound like a simple question. Surely, it's trade that is fair for all? On further delving it turns out that there are different definitions of fair trade, different types of certification and a lot of debate about the value and efficacy of fair trade.
Firstly, there is a difference between fair trade (two words) and Fairtrade (one word). This might seem like a semantic, however, I think it's an important distinction when we're thinking about how we can support people through the choice of yarn that we buy.
The clearest definition that I've found is from Fairtrade International:
Fair trade is an alternative approach to conventional trade based on a partnership between producers and traders, businesses and consumers. The international Fairtrade system – made up of Fairtrade International and its member organizations – represents the world's largest and most recognized fair trade system.
So, fair trade (two words) is the approach and Fairtrade (one word) is the system of certification and labeling.
Why is this distinction important?
When we're buying chocolate or coffee from brands at our supermarkets, it's easy to go straight to the Fairtrade logo. When buying yarn there are not many suppliers who are registered as Fairtrade in an official capacity. We, therefore, need to ask more questions about the people who are involved in producing the yarn to ascertain whether it is fairly traded.
I don't want to get embroiled in the details of the different definitions here. However, if you'd like to know more there is a glossary of terms available to download from Fairtrade International.
Principles of Fair Trade
Fair Trade has 10 Guiding Principles:
https://wfto.com/fair-trade/10-principles-fair-trade
Fair Trade Yarn
The fair trade yarn that I found fitted in to 4 main categories:
South American fair trade yarn
Fair trade cotton
Recycled yarn from India
Fair trade cashmere
I also included a yarn produced by a project for refugee women in Norway. Some of the yarns I have listed do have a Fairtrade certification, however, I feel happy to list yarns that don't but are in some way 'fairly traded' and have some social benefit for the people involved in their production. I guess, as always, it's a case of asking your yarn suppliers the questions which are most important to you when buying yarn.
South American Fair Trade Yarn
A member of BAFTS (The British Association for Fair Trade Shops and Suppliers) The yarn is sourced directly from people in Chile who hand spin it and dye it in small batches using plants collected locally. The colours and texture are fabulous – I've knitted up a sample to see how it knits – I love it!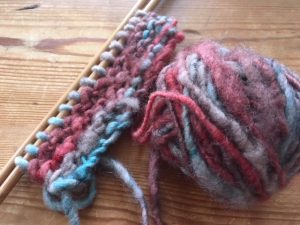 Pascuali is a German supplier who source fleece directly from small farms that have high standards of animal welfare.
70% of Kokon Yarn's alpaca is sourced from small family farms in Peru and is hand-dyed by a Fair Trade certified dyehouse using Oekotex approved dyes.
Probably the best known and largest of the south American fair trade yarn suppliers. Manos del Uruguay is a company set up to give economical, social & personal development opportunities Uruguayan women. It is a member of the World Fair Trade Organization.
Vegan Yarn has a range of certified organic cotton yarn that is also fair trade (certified by Control Union Fair Choice). Have a look at their Deneb Lace or for something heavier, their Sirius Bulky yarn, pictured below.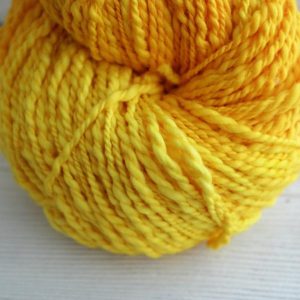 Fair Trade Cotton
Erika Knight's Gossypium Cotton made in India by an eco-friendly manufacturer that promotes fair labour practices and the welfare and development of its employees.
Katia Yarns have a Fair Cotton yarn that is 100% organic cultivated to Fair Trade standards by small farmers in India and Tanzania supported by the BioRe Foundation.
Debbie Bliss' Eco Baby yarn has the Global Organic Textiles Standard (GOTS) certification. Whilst not specifically a Fairtrade standard, GOTS does have criteria to ensure the fair treatment of workers in line with the International Labour Organisation criteria.
Recycled Yarn
An online ethical yarn shop selling sari silk ribbon, recycled yarns, silk yarns, handspun yarn, organic yarn, made from waste by women they work directly with in rural deprived areas of India.
Online shop with a range of recycled sari silk yarn from Darn Good Yarn, a company whose mission is to provide quality fibers whilst helping women in India & Nepal become autonomous and self-reliant.
Fair Trade Cashmere
From the Mountain has a great story. The yarn is 100% cashmere hand spun yarn, straight from women spinning in Afghanistan. As their website says, "Spinning cashmere provides these women with a fair wage and an alternative to growing poppies for opium production." The From the Mountain website has a list of stockists – if you're in the UK you can buy the yarn from Knit With Attitude.
June Cashmere's yarns are created by sustainably sourcing cashmere directly from small family farms in Kyrgyzstan. They also provide education to herders and invest in local community projects.
Qaria Cashmere is a social enterprise set up in 2014 to bring hand crafted cashmere products from Afghanistan to a global market. Their values include paying fair wages and providing decent working conditions as well as a concern for animal welfare and sustainable development.
Other 'Fair Trade' Yarn
Fair trade usually refers to trade with the developing world. However, for my final yarn, I've gone a little off-piste and am featuring Norwegian brand Garnsurr. This is a social integration project for refugee women in Numedal, Norway.
I hope that I've only just scratched the surface with finding fairly traded yarns. It would be great to hear from you about other yarn suppliers that, in some way, take extra steps to look after the people who are involved with the production of their yarn. Please feel free to add comments and to share this blog with others who will be interested.