What a joy it was to spend a few hours at the John Arbon mill earlier this summer. On arrival, the car park was full and there was a buzz of happy wool fans comparing their knits, eating cake and trying to resist the temptation of loading their cars with beautiful yarn and tops.
John Arbon – Background
If you haven't come across John Arbon Textiles before then here are some highlights:
The worsted fibre processing and spinning mill in North Devon, is run by John Arbon & his wife, Juliet
Their mission is "to produce the finest wool and hair fibres from UK sustainable and environmentally friendly resources"
They pride themselves on a return to the old style of textile manufacture … sourcing raw fibre locally and converting it in Britain into high quality hand knit yarns
They sell a range of beautiful yarn as well as fibre tops for spinning or felting
John Arbon Mill Tour
I booked on a mill tour which was entertaining and informative. Having previously visited Laxtons, which works on a much larger scale, it was great to see a small mill in operation. The overall process is similar, so I won't repeat it here – for a step-by-step account of yarn processing have a look at Spinning a Good Yarn. What struck me most about John Arbon and his team is their care for their product and the environment and their passion for using old machinery.
Shared Transport
They source their fleece locally from the British Wool Marketing Board (who are based on the same industrial estate) and then transport-share to and from Bradford where the fleece is scoured.
As Natural as Possible
They don't use bleach or chemicals in the processing of any of their yarn and fibre. They add the minimum amount of nylon to their sock yarn so that the yarn is resilient but doesn't contain too much nylon.
Minimizing Waste
They use the noil (the short fibre waste from combing the wool) as stuffing material or mulch on their allotment.
Old Machinery
They love to use old machinery and have given each of their machines a name. Their oldest machine, Gillian, is a skein winder – she's 130 years old, made in Bradford and was originally powered by steam.
Mr Boyd ( a 2-4 fold bobbin winder) was rescued from Glasgow where he was made in 1960.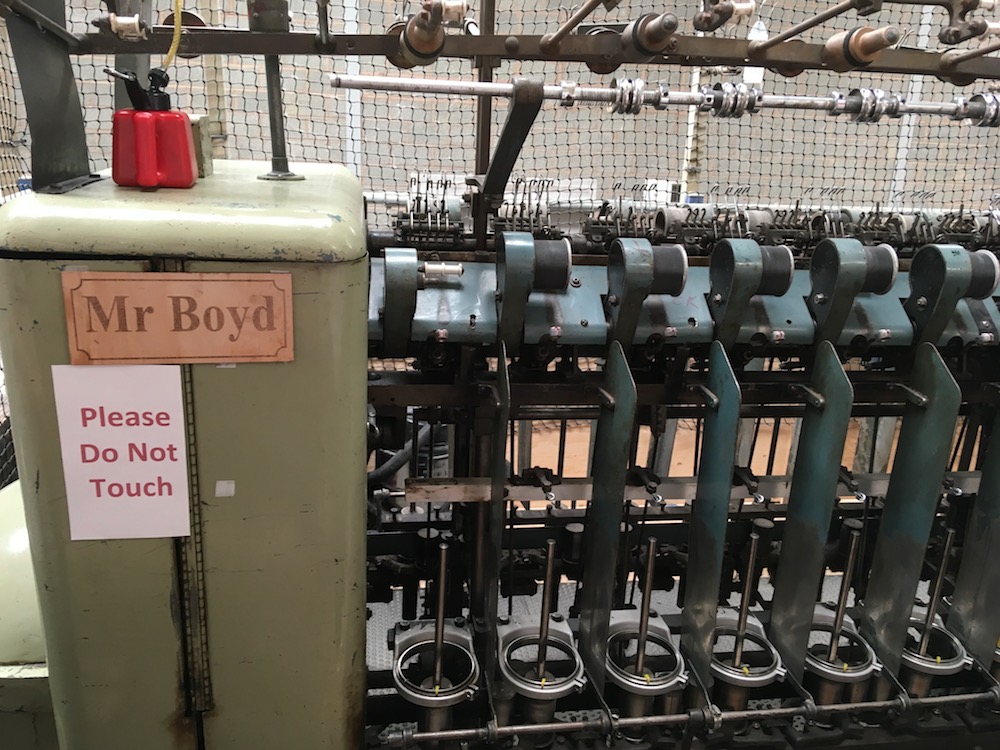 They don't discriminate against the young though, either. Gino (their Italian cone winder) is only 2 years old.
Yarn & Fibre
I don't spin or felt but am always impressed how fabulous the cans of fibre tops look (and feel).
As a knitter, novice crocheter and lover of colour I am always drawn to their display of colourful yarns. I particularly like their Knit by Numbers range which is from 100% organically farmed Falklands merino. Each colour range is available in 6 shades. I'm particularly tempted by the Loft shawl pattern for my first attempt at a crocheted shawl.
If you're interested in finding out more about John Arbon and their fibre and yarn then visit their website or find them at one of the many yarn festivals throughout the UK. They already have the date for their 2019 Open Mill Weekend – 8th & 9th June 2019 – pop it in your diary now!