The Early Days
When I was a child my mum tried to teach me to knit. She was a fabulous knitter – she could design her own knitwear, knit intricate patterns and do amazing colourwork. My grandmother was also a great knitter. It seemed that I had missed out on the knitting gene. My mum said she'd never seen anyone so awkward with needles in her life. A bit harsh, maybe? So, although she taught others to knit at local classes and workshops, it seemed that I was a challenge too far.
My hero – Kaffe Fassett
Even though I couldn't knit, I still loved the colours and textures of wool, yarn and textiles. I was a big Kaffe Fassett fan and my mum knitted me the beautiful 'Foolish Virgins' cardigan. Over 30 years later, when the American Museum in Bath held a Kaffe Fassett exhibition, we went to visit. This trip started the chain of events that has led me to set up Real Good Yarns. Whilst at the exhibition I was inspired to knit and so bought a ball of Rowan's Kid Silk Haze and started to knit a scarf (well, my mum started it – she cast on for me!).
As we all know, the thing about scarves is that they are straight. I was happily knitting away and inadvertently increasing rows and dropping stitches. My scarf isn't straight. However, it was straight enough to encourage me to keep knitting which is exactly what I've done. In a Forrest Gump type way "For no particular reason I just kept on goin'."
A focus on Sustainability
In my professional life I focus on sustainability. I work as a consultant and facilitator to help organizations become more successful whilst minimizing their environmental impact and maximizing their social impact. With hindsight it now seems inevitable that the two strands, my newfound hobby and my work, would overlap. However, it wasn't until later that I made the connection between the world of wool and yarn and the work that I do.
The start of Real Good Yarns
In April 2016, I returned from Wonderwool Wales with some beautifully soft merino wool to be greeted by a PETA leaflet on my doormat highlighting the issues around mulesing. This started me on a quest to find out more about the ethical issues related to production of wool and yarn.
My aim with Real Good Yarns is to do the research into how our yarn is produced to make it easy for others to make conscious choices about the yarn that they buy. I want it to be a place where yarn is celebrated and where people are inspired to knit, crochet and weave with yarn that is produced with love and respect for the animals and the people involved in its production, and for the planet.
I'm not an Eco Warrior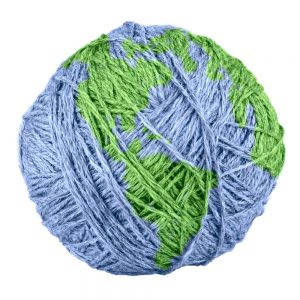 It's important for me to be transparent about my own position regarding the topics I'll be exploring. I certainly don't want to preach or be all 'doom and gloom. I'm not perfect in the choices that I make and have friends who are far more eco-focused than I am. Whilst I will endeavor to provide a balanced view, what I write will inevitably be underpinned by my own opinions, by the decisions I make when buying yarn, and by the compromises that I make when weighing up different options. We don't live in a world where we have zero impact. Everything that we buy will have an impact somewhere along the line. For me, the important thing is that I buy consciously; that I'm more aware of the pros and cons so that I can make informed decisions.
A step into the unknown
Real Good Yarns is a step into the unknown. I'm not an expert – I'm a curious amateur. What I am already finding is that the more questions I ask, the more questions are raised. I'm looking forward to seeing where my exploration through the wonderful world of wool and yarn takes me. I've already met some amazing people who are really passionate about what they do.
I want to tell their stories.