When you next start on a knitting, crochet or weaving project, how can you be sure that you are buying ethical wool and yarn? When I tell people I'm researching ethical wool and yarn they usually look surprised. The assumption is that if you are knitting, crocheting or weaving your own garments then they must be ethical – surely! So, what is ethical wool and yarn?
Ethical Fashion
Ethical fashion campaigners, such as Fashion Revolution, often focus on the conditions of garment workers that make the clothes that we wear. When we knit, crochet or weave our own fashion then we don't need to worry about the issue of fashion 'sweatshops' – it's only our sweat (and sometimes, lets face it, tears) that goes into the making of our garments.
Ethical Yarn Considerations
To buy ethical wool and yarn we need to consider questions around:
the animals that 'grew' our yarn
the plants that were harvested for our yarn
the processes that our yarn goes through
How much consideration do you currently give to these issues? If you're the same as I was just over a year ago, then probably not that much. On the other hand, if you're reading this blog then maybe they are on your mind.
So, let's start with you!
Why do you do what you do?
Are you primarily a knitter, a crocheter or a weaver?
What inspired you to pick up your needles, hook or loom?
What is it that you love about your chosen craft?
What do you love about the projects that you undertake/the creations that you create?
Are you very focused on the end result or is it the process of creation that you enjoy?
Do you create garments to wear, toys or housewares?
Do you create for yourself or for others?
Do you create for profit?
Do you create for charity?
Do you create on your own or in a group?
How do you choose the yarn that use?
Do you buy yarn that you like and then think of a project?
Do you think of a project first and then buy the yarn?
Are you a hoarder? – do you have a stash of yarn that seems to just get bigger?
What's most important to you when you buy yarn – the colour? the texture? the price?
About Me
I am primarily a knitter. I've dabbled with crochet and weaving but mainly knit accessories – shawls, scarfs, gloves, socks & hats. I've tried to knit sweaters, however, haven't quite mastered the art of sizing! I've knitted some items for charity and was very proud of a dog coat I knitted for Give a Dog a Coat (although I did knit it with acrylic wool!)
Usually I knit for myself or as gifts for others. I tend to knit whilst watching television or when on trains – I like the idea of knitting in groups but find it difficult to talk and count stitches at the same time.
When choosing my yarn it's the texture and colour that attracts me. I usually buy the yarn first and then spend hours on the internet, most often on Ravelry, trying to find a pattern that would work with the quantity and weight of yarn that I have bought.
I love the process as much as the finished product. Since I've started my research into ethical yarn, I've really enjoyed knitting with beautiful yarns that I believe have been produced ethically with extra care for animals, people & the environment.
What is Ethical Wool and Yarn?
This brings me on to the question of "What is ethical wool and yarn?"
According to the online Cambridge dictionary, "ethical" means "relating to beliefs about what is morally right and wrong". This definition encapsulates the minefield that is the world of ethics. If ethics are beliefs then they will vary from person to person. What I consider to be 'morally wrong', will be perfectly acceptable to others. Ethics are, therefore, personal and each of us needs to decide where our own ethical line is drawn.
My Ethical Line
Over recent months I have either purchased yarn from smaller suppliers who are listed on the Real Good Yarns directory or from the larger brands that have clear statements on how their yarn is produced (e.g. Malabrigo). I have had conversations with the smaller suppliers to find out what steps they are taking to produce yarn that cares for the animals and the environment.
It's sometimes hard for me to accept but we live in a world where it is impossible not to have a negative impact of some sort with the purchasing decisions that we make. My ethical line (for buying wool and yarn) is currently drawn around the following issues:
Animal welfare – I won't buy merino yarn that is from mulesed sheep
Acrylic – I no longer buy any yarn that has acrylic or other fossil fuel-based fibre (e.g. nylon, polyester). I'm also trying not to buy any clothing made from these fibres. Whilst it is relatively easy for yarn, my wardrobe is looking a bit bare! My ethical line on these fibres are drawn around issues of fossil fuels' contribution to climate change, the toxicity of the chemicals that are used to produce the fibre and the issue of microfibers and ocean pollution.
Source of origin – I'm currently avoiding yarns that originate in China. I'm not saying that all yarns from China are bad, just that, at this stage I haven't had the chance to research them in full and so am steering clear until I have more information.
As I continue with my research, I will write more about my findings and, no doubt, my 'ethical line' will move.
More Transparency

It isn't always easy to have a clear 'ethical line' as we're often not party to the information about where our yarn is from, how it's produced and the welfare, environmental and social implications that this has. I believe that we need to have greater transparency in the industry so that we can have more information about the yarn that we're buying (I have plans to set up a Campaign for Ethical Yarn in the near future to encourage transparency and make conscious purchasing easier).
In the meantime, here's a list of my Top 10 questions to consider/ask a yarn supplier about the yarn that they are selling.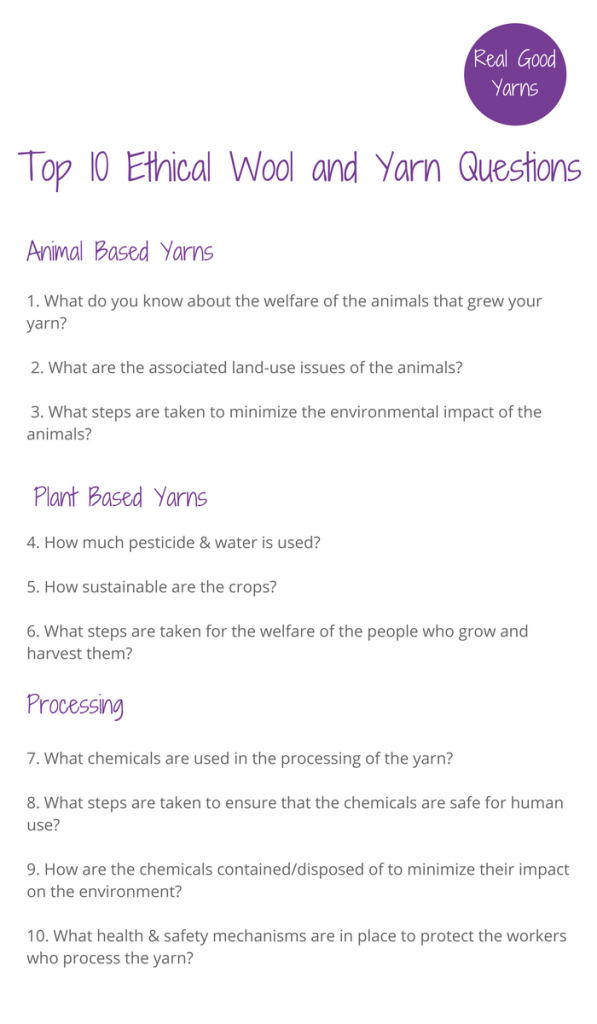 What Can You Do?

If you're curious about the issues raised in this blog, then please explore my website and sign up to my newsletter in which I'll be providing regular updates on the findings of my research and directing you to other sources of information. If you'd like to join in the conversation, then please comment on my blogs and join the Real Good Yarns Ravelry group. I'll also be active on Facebook, Twitter, Instagram, Pinterest and Google+.
More importantly, please:
think about where you would like to draw your own 'ethical line'
start asking questions of your yarn suppliers to find out their yarn matches up to your ethics
Happy knitting, crocheting & weaving!