Earlier this year I met Alice Elsworth of Whistlebare at Wonderwool Wales. We talked briefly and I really liked her ethos as well as her beautiful ethical mohair. So, it was a great pleasure last week to visit Alice at her farm in Northumberland, meet her goats and sheep and find out more about Whistlebare yarns.
Alice's Story
Having grown up in Birmingham, Alice says she had always felt that she belonged in the country. She now lives on a farm in Northumberland with her family, 2 dogs, 150 Angora Goats, 50 Wensleydale Sheep and a small flock of Cheviot Sheep. Alice started keeping goats in 2013 and now produces a range of yarns that blend mohair with the wool from her sheep and, most recently, with some Blue-Faced Leicester from a nearby farm.
Whistlebare's Ethos
Whistlebare prides itself on being as local as is practical. Alice takes personal care of the goats & sheep; they graze on their farmland during the summer and the goats are provided with thick straw beds through the cold winter months.  Any feed that is required in addition to that grown on the farm is sourced from their local mill. Their fleeces are scoured, blended and worsted spun in Yorkshire and then hand-dyed back at the farm.
Sitting with Alice in her kitchen we had a really stimulating conversation on a number of topics including the link between good farming & biodiversity, what 'Made in Britain' actually means, what needs to happen for wool to be certified organic and the environmental considerations when hand-dyeing yarn. Our conversation has prompted me to do some more research into these areas that I'll write about in future blogs.
Angora Goats & Mohair
During my visit I also learnt a lot about angora goats and mohair. I learnt that:
Angora goats are adorable and are shorn twice a year
South Africa is the world's leading country for angora goat farming – it contributes 53% of the world's mohair
Male goats wee on their own heads to make themselves attractive to the females!!
Mohair is a naturally soft, luxurious fibre that also has great durability
It's great for all seasons as it can be knitted or woven into great warm knits for winter or lacy patterns that breathe in the summer
Mohair has an affinity for dyes and so can produce bright, vibrant yarns
(To find out more about angora goats and mohair then take a look at the British Angora Goats Society)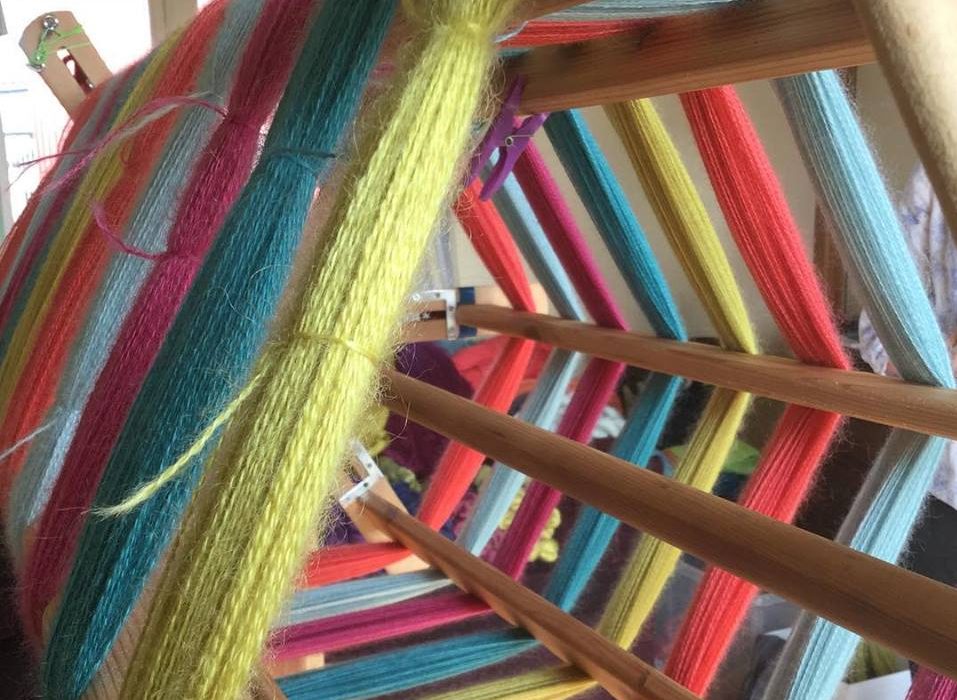 Yeavering Bell
The Whistlebare yarn I'm featuring is Yeavering Bell named after a twin-peaked hill at the edge of the Cheviot Hills. It is a beautifully light yarn – 80% Mohair and 20% Wensleydale and is available in 4 ply, DK and Aran. The colours that Alice dyes are vibrant and inspired by the natural colours of the local Northumberland landscape.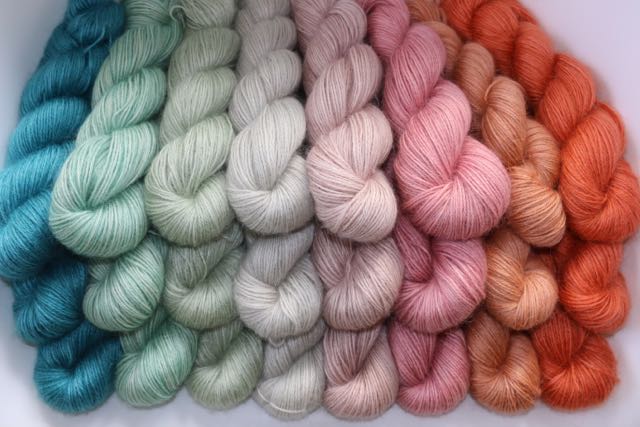 Earlier this year, I knitted an Antarktis shawl in a gorgeous purple (Edwin's Cloak). Here's a photo of it (just experimenting with artistic yarn photos – still some work to go!)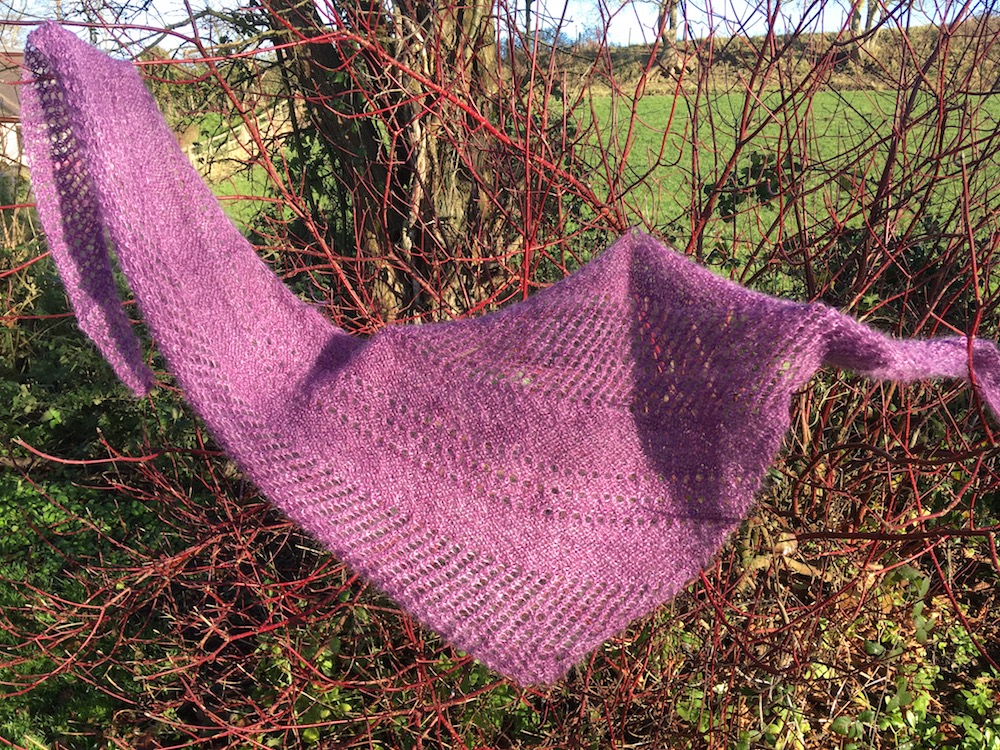 If you're looking for a bright and light mohair-based yarn that's a joy to knit with then try Yeavering Bell. For me, what I really like about Whistlebare is the fact that
The goats and sheep are well cared for
The fleeces are processed as locally as possible
The colours are fabulous
Alice is committed to doing the best that she can at all stages in terms of the environmental impact of her yarn
Whistlebare is listed on the Real Good Yarns directory with a link to their website. You can also follow Alice on Facebook, Instagram, Twitter and on her own YouTube site.